November 22, 2016
Just in time! crab
Continuing a long Bay Area tradition of bringing freshly caught Dungeness crab to the Thanksgiving table as crab season first opens, we will once again get to crack some shells and suck on some crab legs this November after what was virtually a crab drought last fall and winter. State Fish and Wildlife officials have said that the scourge of domoic acid, caused by toxic algae blooms in the Pacific, has subsided, and local crabs should be safe for consuming when the commercial crabbing season kicks off on November 15. The news comes two months after we first heard that ocean temps appeared to be cooling, and a repeat of last year's disaster was unlikely.
There is one caveat, though, as the Chronicle reports — some trace amounts of the toxic stuff was found in the viscera, i.e. the internal organs, of crabs caught north of Point Reyes. This just means that cooking liquids of those crabs should be discarded unless the innards are removed prior to cooking.
Fresh crab can be found, after the season opens, down by Fisherman's Wharf and in your local grocery store or fish market. Also, crab salads, pastas, and whole roasted crab dishes are going to start appearing on restaurant menus with a vengeance now that local chefs have had over a year without wide access to the good stuff — at least from the California coast anyway. Also, sport fisherman can start hauling their first crabs this weekend, as ABC 7 notes.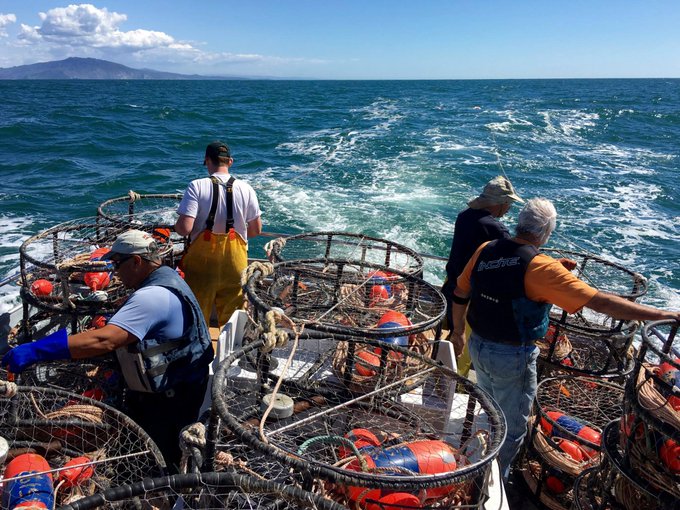 Last year's Dungeness crab season
did finally open in March
, but this was months after the typical first appearance of local crab — not to mention months after the local population of crab is typically exhausted, which tends to happen by early February. Also, many local crab fisherman had, by that time, given up on crabbing altogether and moved on to the other fish they tend to fish in the spring and summer, which require different equipment, etc.
Looking for ideas for Thanksgiving crab recipes? Check out some here, here, and here.